Nickelodeon Wiki!
Welcome to the wiki! Before you begin editing, please review our policies. If you spam, make useless edits, or break the rules, you will be blocked from the wiki. This wiki is still under heavy construction, so your help with adding images and editing articles is much appreciated. There are some top ten lists located around the wiki. Once you find them, you can vote for your favorite thing on that list. Voting closes on July 31st.

Cat Valentine is one of the main characters on Victorious. She is a ditzy girl who is naturally brunette, but died her hair red. She has a brother who is said to always be doing crazy things. She first appears in pilot dancing backstage to Tori's performance....Read more


BoriLovah is the featured user for the month of August. Congrats! BoriLovah, nicknamed Mori is an admin and chat mod on this wiki! Make sure you send her a congrats message on her message wall!
| | |
| --- | --- |
| | This User Loves Ariana Grande Cause She Is Just So Perfect. |

ICarly is a sitcom created for Nickelodeon by Dan Schneider. It first aired it's Pilot after the Drake and Josh finale. It was Dan Schneider's first show to reach 100 episodes. Read more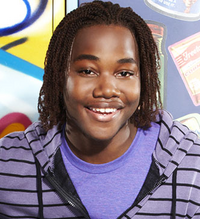 Leon Thomas III is an actor who is best known for his role on Victorious as the main character, Andre Harris. He as also appeared twice on iCarly. He first appeared in iCarly Saves TV, a season 1 episode... Read more